The history of trekking goes back to its roots in the 19th century in the regions of South Africa, where this word became known in the language of the Boers, who used the word trek to signify the great journey, which they had to take after being expelled by the British from their own land. They travelled through the great plains, mountains, and deserts to finally establish the republics of Orange, Transvaal, and Natal. This exotic history of emigration, looking for one's own homeland and a rich background gave rise to the application of this name, by people of different nationalities, to a specific form of high mountain tourism. Undoubtedly, the most attractive place to practice this type of tourism is Nepal, being a space, which is diversified taking into consideration the beauty of the landscape, a melting pot of cultures and religions, and at the same time a country famous for the hospitability of its inhabitants and extraordinary taking into account the unique monuments of architecture and art established on the grounds of a rich and old culture. This type of exploration of mountain regions has some characteristic features, ie.:
Covering long distances during many days of travelling on foot;
Climbing to significant altitudes, which is linked to experiencing the specifics of acclimatisation in high mountain terrain;
It is a type of tourism practiced in areas with a poorly developed infrastructure.
Trekking with our Agency is something more than just a plain backpacking tour among Himalayan peaks. This is a specific occasion for all those who do not have alpine experience, or still do not feel they have the strength, to make the first step in this direction. That is why with us You will be able to experience and participate in a real alpine expedition, as most of our trekkings accompany and contribute to the ambience of such expeditions. This is a unique chance to get to know base life, learn how to use specific equipment, move on a glacier, and learn the basics of the climbing technique and safety measures in the snow, namely everything which shapes the specifics of alpine expeditions. This is an unforgettable experience also taking into account the possibility of getting to know many interesting people and big names in Himalayan alpinism.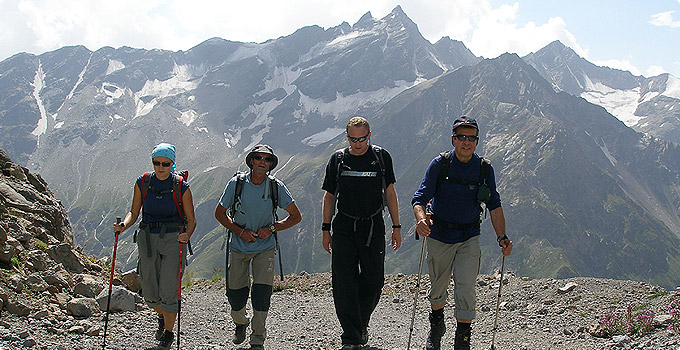 (
Łucja Kalisz
,
Ryszard Pawłowski
,
Jacek Czarnohorski
,
Jan Kalaciński
)
Therefore, if You wish to come almost to the roof of the World and be a part of a real alpinist expedition
JOIN US
.

ALL EXPEDITIONS AND TREKKINGS ARE LED PERSONALLY BY RYSZARD PAWŁOWSKI.
trekkings...
Trekking 2018:
Given prices include:

costs of permits,
food in the base and above,
cost of leadership,
etc

Prices do not include:

insurance,
airport fees,
costs of excess baggage and visas!
food and accommodation on way to the base (except KARAKORUM).
The participants will be notified about the exact date of departure by telephone or electronic mail.
The Agency does not bear responsibility or costs of an earlier return of a participant during the trekking.